Local Online Marketing
One of the most effective but least expensive options for a business with a local reach is local online marketing.
Click To Learn More!
Having your business engage in local online marketing is a tremendous way to help your business reach valuable leads and customers. There are quite a number of online methods available that can drive more business to you. If your online focus is local, you can do quite a bit of outreach for an affordable amount of investment in your online strategy.
A local focus is not nearly as expensive as products or services that you might want to push nationwide. Local online marketing can help your business scale quickly and reach new heights.
Below you will find some ideas to start your local online digital strategy. If you
would like us to help you with any of these, please call us at 770-530-3972.
1. Do you have a professional looking website?
So many businesses are virtually leaving money on the table because they have not invested enough time or resources into developing a website that can bring them in additional revenue. A nice website today is not a massive expense as it was many years ago. They are affordable and we can usually develop one in a price range that is good for most every small business,
2. Is your website optimized for local online marketing in the search engines?
Local search engine optimization (SEO) is imperative to a good online marketing strategy, yet many websites aren't optimized well to generate local leads. When looking for a product or service locally, people will conduct a local search for a product or service through Google to find a business near them.
In their Google search phrases they might include the product or service name and then add phrases like "near me" or "in Gainesville," for example. Savvy internet shoppers will type in phrases that will give them the most relevant results.
A large number of internet searches are from customers who want local goods and services. We want to help them find YOU! So, if you want to have these potential customers connect with you and your website, you will need a site that is optimized for local listings.
Sometimes local business owner will not take advantage of a GMB (Google My Business) page that shows up in the local searches. If your website and GMB listing are optimized correctly your business may be able to be at or near the top of the local search results. For instance, we searched for "burgers near me" in our area and got the results below. These are the results of your business having a GMB account. Sloan Marketing Solutions can set that up for you at a very low cost.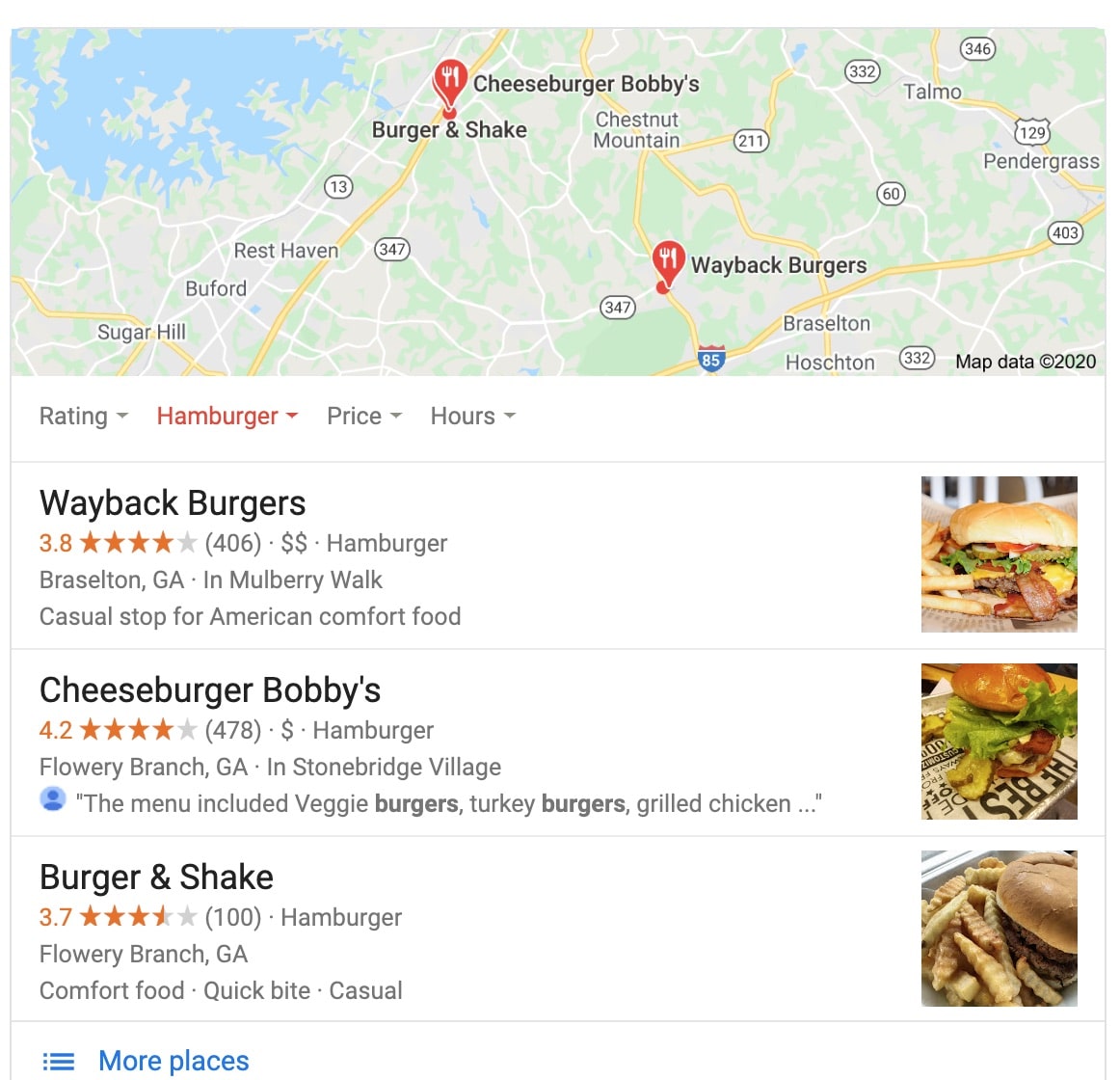 Do you have a website that is optimized for mobile use?
Sometimes we find local businesses that may have built a website years ago but has not been optimized for use on cell phones and tablets. It was only a few years ago that you only needed your site to look good on a personal desktop or laptop computer. However, in 2019 was reported that 63% of searches on Google came from mobile devices.
Therefore, you can see how important it is for your website to be sharp, visually, appealing, and highly functional on mobile devices. Call buttons should be easily accessible and the site should be easy to navigate.
We can take care of that for you! When your site begins to get local traffic they need to be able to access you quickly with their smartphone or tablet.
3. Are you properly using social media as a part of your online marketing?
Are you using the best social media platforms for your type of business? You very well may be. Just remember, you need to consistently put content on those platforms to get your brand, your name, and your product out there for people to get to know.
Also, it is extremely important that you drive online traffic (lots of people) to your website from your social media platforms. You can only do so much on social media. However, when you get them to your website you can give them tons of content and, very importantly, gather their contact information if you understand the effective ways in which that is done.
You also might want to consider advertising on social media as only a small percentage or your followers will see the posts that you make. Putting a few dollars into social media advertising can reap a lot of financial benefits for some businesses.
4. Building Your Brand
What you do through your website helps your build your online brand awareness. You need more and more people to know about your business and your brand. If you have a quality product or service, the more people who know about you turns into more customers who come to you.
Eventually you want people to think of you and your brand when they think of the product or service that you provide. Your website can be the hub of brand awareness. We will talk about that next.
5. Your website can be your hub of your social media platforms.
As we mentioned previously, your website can be the center of all that you do online. You can use Facebook pages and all of your other social media accounts to drive people to your website. You can write about the products and services that you offer and do so with much detail on your website if you like. Then you link to your website from your social media platforms with all of the followers that you build online. Also, if it is to your advantage (and many times it is) you can run paid advertising that drive more visitors to your website giving you more sales and more leads.
Remember, a good website that works well on a personal computer and especially a mobile devise such as a cell phone, will become your internet home base. More leads, more customers, more sales, brand awareness – these are just some of the goals of your website.
Don't underestimate the power of a good website. We can provide you the good, modern, mobile friendly website that you need for a price that is affordable.
CONTACT US TODAY. NO PRESSURE. JUST IDEAS.